We Specialize in
Outdoor Catering!
A Prairie Pride Farm catered event is something special. Treat your guests, family, friends or employees to a meal that tastes great and means so much more. From weddings to corporate events, Prairie Pride Farm can turn your occasion into a memorable, talked about experience!
Are you looking for an "Award Winning" BBQ meal or fresh smoked shredded pork for your company picnic, wedding reception, town celebration, or special event?
We can serve any size group. We use our delicious "Award Winning" BBQ recipes and talents to make your event a memorable one.
Price ranges from $9-$17 per plate. Please go to our menu links for more information!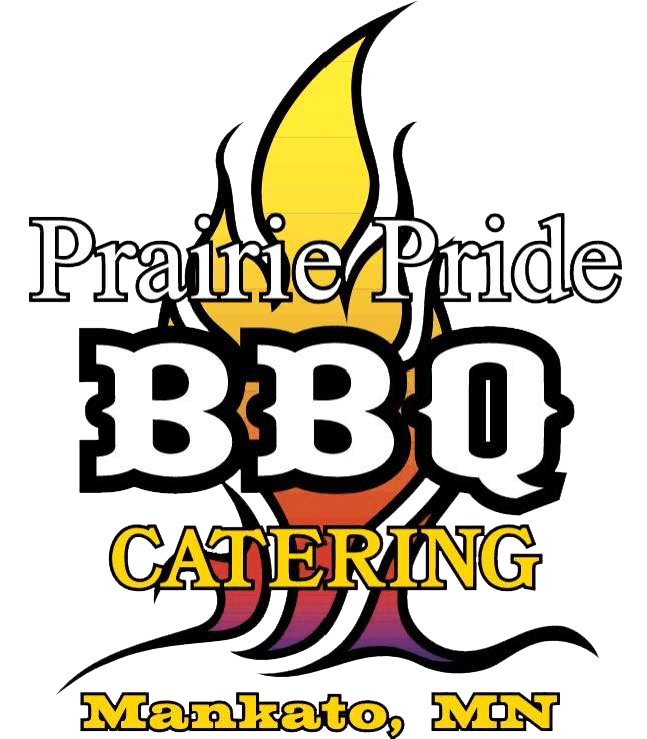 Natural Pork
Prairie Pride uses natural pork, raised on our farm in southern MN. It is USDA inspected.
The fresh pork shoulder roasts are then marinated with our special BBQ seasoning overnight. We slow smoke the pork over maple wood in our smoker for up to 12 hours. The meat is then shredded into bite size pieces. The maple wood flavor penetrates the meat for a smoky sweet BBQ flavor.
We provide our Blackberry Blaze BBQ Sauce/Chile Chipotle as the perfect condiment to BBQ'd pork. This is served on only FRESH bakery buns, baked daily.
Smoked Beans
A Barbecue would not be complete without beans! Our 7 ingredient smoked beans are made with only fresh ingredients, not warmed over!
This secret recipe is a hit with even the non-traditional bean eaters! Nor would a summer picnic be complete without creamy coleslaw and a super potato salad. We top off the menu with a large kosher pickle spear.
This meal is served on a heavy recycled sugarcane plate, with heavy plastic silverware and thick napkins (provided). Buffet style service lasts for an hour. The leftovers are yours if you can refrigerate.