NEW LOWER SHIPPING RATES for the Winter Months!
NEW feature! Enter your zip code and get the estimated ups charge for your zone, before you place your order. Shipping is expensive, so be informed of your rate before the order is placed.
Minimize your shipping costs by maximizing your order. We charge for process & handling in addition to the UPS charge.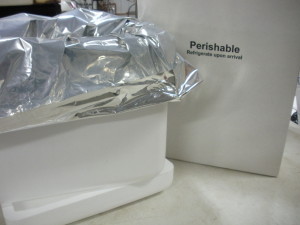 We use a variety of shipping boxes and sturdy styrofoam coolers for shipping. Ice packs are added also. We do not use dry ice, costs too much to use. It is better to ship faster to you. The meat is shrink wrapped and flash frozen, to lock in freshness, when it leaves the farm. The meat may be part thawed when it arrives or cool to the touch. It can be placed in the freezer or used within a few days, after arriving. 
2 Day Air Shipping is now the standard for summer months and 3 day for winter.
Each region in the US has a different flat rate. The shipping charge is calculated individually for each address entered. So you pay according to where you live. 
UPS shipping costs for 2 day air:
Local Pick Up
If you enter a Minnesota zip code at check out, you can then have an option to select local pick up. Pick up is at a farmers market location.
When you select local pick up, no box or UPS will be charged. You would need to pick up at a farmers market or drive to the farm. We can arrange that through email also. 
We want your order to arrive in great shape at an affordable cost.
Expected Arrival Times
During the winter months, I can use ground ups and product arrives in great shape. The following is a general shipping time frame during the winter, when I use ground.
Orders are shipped Monday and Tuesday of each week.
If you live in the following states your shipment will arrive to you in 1-2 days: UPS: MN, WI, IA, ND, SD, NE, KS, MO, IL, MI, IN, OH, KY.
If you live in the following states your shipment will arrive in 3 days: MO, WY, CO, OK, Northern Texas, AR, LA, MS, AL, TN, GA, SC, NC, VA, WV, MD, PA, Western NY, FL, DE, NM, MT, and most of Texas.
If you live in any of the other states, your shipping will usually take 4 days, but we will try and ship in 3 days, at no extra cost.
Thank you, shipping is a challenge, we want to customize shipping options for your special needs as much as possible!