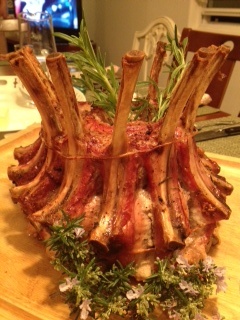 Ingredients
1 tbsp. dried parsley flakes
1/2 tsp. ground black pepper
salad oil
salt
1, 8# pork rib crown roast (about 10 ribs)
1/2# ground pork
1, 12oz. package of mushrooms, each cut in half
1 medium sized onion, diced
1, 13 3/4 to 14 1/2 oz. can of chicken broth
2, 4 oz. packages of wild rice (1 1/2 cup)
1 bay leaf
1 large yellow pepper
1/4# green beans
pepper and mushroom saute
3 tbsp. all purpose flour
1 c. milk
parsley sprigs for garnish
Instructions
About 3 1/2 hours before serving:
Mix parsley, black pepper, 1 tbsp. salad oil and 1 tsp. salt. Rub inside and outside of pork crown roast with parsley mixture. Place roast, rib ends down, in large roasting pan. Roast in 325° oven for 1 1/2 hours, basting occasionally with pan drippings.  Cover with foil loosely.
Meanwhile, prepare stuffing in a 4 qt. saucepan over high heat. 1 tbsp. salad oil, cooked ground pork, mushrooms, onion and tsp. salt. Stirring frequently, cook until pan juices evaporate and mushrooms and onions are golden. Add chicken broth, wild rice, bay leaf and 1/2 c. water. Heat to boiling. Reduce heat to low; cover and simmer 45 minutes or until wild rice is tender and liquid is absorbed.
While rice is cooking, dice yellow and red peppers. Trim ends from green beans; cut green beans into 1/2" pieces. In 10" skillet over medium-high heat add 1 tbsp. hot salad oil. Stirring frequently, add peppers, green beans, and 1/4 tsp. salt until vegetables are tender-crisp.
When wild rice is fully cooked, discard bay leaf and stir in pepper mixture. When pork has roasted for 1 1/2 hours, remove from oven and turn rib ends up. Then fill cavity with some rice stuffing (bake any leftover stuffing in small casserole dish during the last 45 minutes of roasting time). Insert meat thermometer between 2 ribs into thickest part of meat, being careful that the pointed end of the thermometer does not touch bone. Cover stuffing and ribs loosely with foil; return roast to oven for about 1 hour or until thermometer reaches 145°. (18-20 minutes per pound total cooking time)
Prepare pepper & mushroom sauté; and keep warm. When roast is done place on warm platter; let stand 15 minutes for easier carving.  The juices set in the roast when you let it rest!
Meanwhile, prepare gravy: pour pan drippings from roasting pan into 2-cup measuring cup or medium bowl (set aside); let dripppings stand a few seconds intil fat seperates from meat juice. Return 3tbsp. fat to roasting pan; skim and discard remaining fat in measuring cup, or bowl, to equal 1 1/2 c.  Whisk together the milk and flour,  add this to the meat juices, then gradually add meat-juice mixture to the roasting pan along with 1/4 tsp. salt, stir or Wisk  to loosen brown bits; over high heat, cook while stirring constantly until mixture boils and thickens slightly.
To serve: arrange pepper & mushroom sauté and wild rice stuffing baked in a casserole on platter with roast. Garnish with parsley sprigs. Serve with gravy.
Nutritional Information
Credits