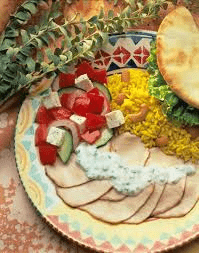 Ingredients
1, 3# boneless pork loin roast
1/4 c. olive oil
1/4 c. lemon juice
1 tsp. oregano
1 tsp. salt
1 tsp. black pepper
6 garlic cloves, minced
Spicy Cucumber Yogurt Sauce:
-In small bowl stir together:
1 c. plain yogurt
1 peeled & chopped cucumber
1/2 tsp. crushed garlic
1/2 tsp. crushed coriander seed
1/4 c. minced red onion
1/4 tsp. crushed red pepper
Cover and refrigerate spicy cucumber yogurt sauce until ready to serve.
Instructions
Place pork loin in large ziplock bag. Combine remaining ingredients, except spicy yogurt sauce and pour over pork in ziplock bag. Seal bag and refrigerate overnight. Remove pork from marinade, then discard remaining marinade. Place pork over drip pan on grill. Grill over indirect heat in a covered grill for about 1 1/2 hours or until meat thermometer reads 155°. Let rest for 10 minutes (internal temperature will rise upon standing). To serve, slice roast thinly and serve with Spicy Cucumber Yogurt Sauce.
Nutritional Information
Credits