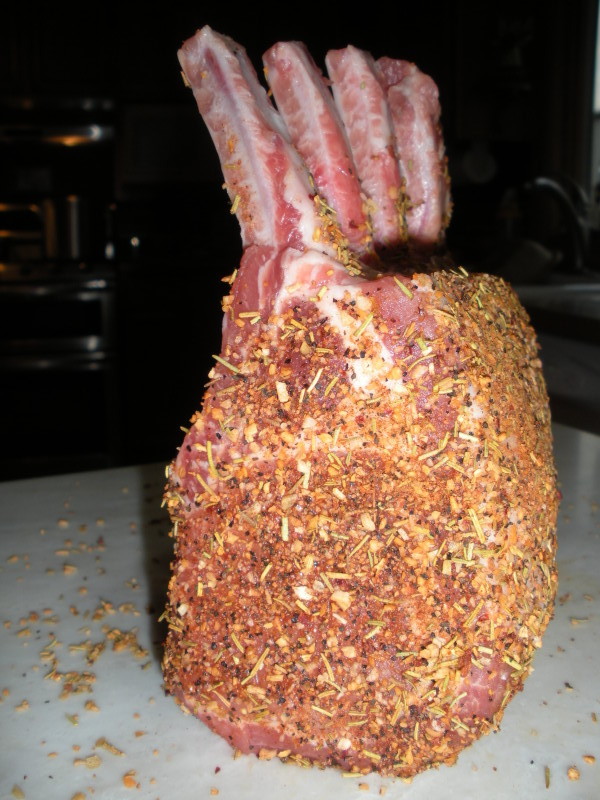 Ingredients
4# bone-in, rack of loin pork roast
1 tsp. salt
2 tbsp. country Dijon-style mustard
1 1/3 tbsp. olive oil, divided
2 very large cloves garlic, crushed (or more)
1 tsp. dried thyme
1tsp. dried oregano
1/4 tsp. ground sage
1/3 c. white wine
1/4 c. white wine
1/4 c. light sour cream, or as needed
Instructions
To bake roast: Preheat oven to 325°. Rub meat of pork roast with salt. Season with pepper to taste. Set aside. In a small bowl, stir together mustard, 1 tsp. oil, thyme, oregano and sage. Set aside. In a large stovetop-oven pan, heat remaining oil until hot but not smoking, over medium-high heat. Sear all sides of roast. Remove from heat. Brush meat of roast with mustard herb mixture. Place pan in oven. Bake for 2 hours, or until meat registers 145°. Remove meat from pan. Meat will reach 160° while standing, before slicing. Set aside.
To make sauce: Deglaze pan with wine, scraping up any bits that stick to the bottom of the pan. Over medium heat, stir in sour cream to desired consistency. Season with salt and pepper to taste.
To serve: Cut pork roast into 6 chops on serving platter. Drizzle chops with sauce and put a few sprigs of fresh thyme on platter.
Serving suggestions: Mashed potatoes and green beans. Salad of fresh greens with red wine vinaigrette with added cut up fruit rather than vegetables. Add strawberries, cut up oranges, cut up pear, apple or grapefruit with toasted pecans and a bit of crumbled cheese. Also try serving with roasted Vidalia onions. Roast 50 minutes at 350°. Spray with olive oil, salt and dried thyme. Remove onions, drizzle with a good quality balsamic vinegar.
Nutritional Information
Credits
Submitted by: Pat Roehler