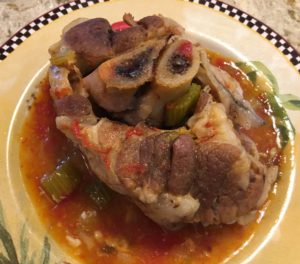 Berkshire Pork Osso Bucco is so delicious, you may never make it with lamb again.  Try this easy, simple, recipe with Kurobuta Berkshire Pork from Prairie Pride and wow your guests.
Ingredients
Ingredients
4-6 meaty chunks of pork shank, cut 2 1/2 inches thick
2 tablespoons olive oil
1/3 cut carrots, diced
1/3 cup onions, diced
1/3 cup celery, diced
4 cloves garlic, minced
1 cup dry white wine
1 cup chicken stock
ground pepper to taste
salt to taste
Gremolata
2 tablespoons fresh flat leaved parsley, chopped
2 cloves garlic, minced
2 teaspoons lemon zest, grated
Instructions
Preheat oven to 350 degrees F.  Heat olive oil in a large dutch oven.  Add the shanks and brown on both side.
Remove shanks from dutch oven.  reduce the heat to medium, and add the carrots, celery, onions, and garlic.  Cooks and stir until the veggies have softened, 5-10 minutes
Add the wine, chicken stock, salt and pepper.  Add the shanks back to the stock and bring to a boil
With lid back on, put the Dutch oven into the oven and cook the shanks for one to two hours, or until fork tender.

Remove the Dutch oven from oven and prepare the Gremolata.
The last step
Check the shanks that they are fork tender
take the shanks out of the pot
reduce the liquid in the Dutch oven by half and add the gremolata, a northern Italian seasoning.
Return shanks to the pot.
Serve over or along side pasta or mashed potatoes
Nutritional Information
Credits
The Joy of Cooking adaptation.