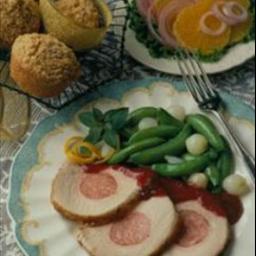 Ingredients
4# boneless pork loin roast
1 Polish sausage, Italian mozzarella sausage or Chorizo smoked link
Apricot Mustard Glaze:
6 tsp. apricot Jam
2 tbsp. soy sauce
1 tsp. crushed red chilies
2 tbsp. dijon mustard
2 tbsp. brown sugar
Instructions
Preheat oven to 350°. Insert long slicing knife into the center of loin, with the grain, cutting clear through. Then cut again through the center of loin, creating an "X", in the center of loin. Insert sausage through the "X". Place sausage stuffed loin on the rack in shallow pan. Roast uncovered in 350° oven for 45 minutes. Meanwhile, stir together apricot mustard glaze in small bowl. After the loin has roasted for 45 minutes, pour apricot mustard glaze over the pork and continue roasting for 15 minutes, basting occasionally. Roast pork to an internal temp of 155°. Remove pork from oven and let rest for 10 minutes before slicing to serve.
Nutritional Information
Credits